Admission session 2020-21 (SSSS College of Commerce for Women)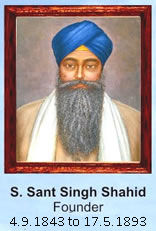 Sant Singh Sukha Singh Group of Schools and Colleges, popularly known as SSSS (FOURESS) is a premier institution known for quality in education. Today SSSS offers quality education from pre-nursery to higher education. Family SSSS believes in Religiosity, Integrity, Transparency and Steadfastness (RITS) and strives to dig out these inherent qualities from the inner core of its students, SSSSians.
Established on May 13, 1893 by the great visionary and philanthropist S. Sant Singh Rais as a primary school, it is the oldest Sikh School established in Amritsar during the British Raj. It has grown at present to five schools and two colleges. The schools are recognized by Central Board of Secondary Education (CBSE) and Punjab School Education Board (PSEB). Three schools are located in urban areas whereas two schools are located in rural areas. It has one Post Graduate College of Commerce affiliated to Guru Nanak Dev University (GNDU), Amritsar and an associate Arts College as well. Both colleges are exclusively for women and are. SSSS Educational Institutions endeavour to inspire each SSSSian to achieve academic excellence, aesthetic refinement and life skills. The mission of SSSS Society is to nurture the talent of each SSSSian, who believes in sewa and self-sacrifice, while ensuring a perfect blend of tradition and modernity to make the just and progressive society. The holistic education provided to the students helps them to make the optimal choice for the profession and lead a purposeful life while contributing in nation building.